Please note that after 3 years and over 15,000 dresses, I am standing down as the UK Co-ordinator for the 'Dress A Girl' charity. Huge thanks to all who have been involved in making dresses over the last 3 years. The charity continues to grow and there are several new co-ordinators taking over. You can find contact details below.
Jacqui Onslow - 30 Bourne End Road, Northwood, Middlesex HA6 3BS. You can contact Jacqui at jacqui-dressagirl@outlook.com
My Involvement (2011-2014)
At the beginning of 2011 an article in a sewing magazine about a charity in America called '
Dress A Girl Around the World
' caught my eye. People who could sew were asked to make simple pillowcase dresses which were then delivered to girls living in poverty in the developing world. Girls in countries like Uganda, Rwanda, Haiti and India. The charity felt that every girl should own at least one pretty dress.
As the mother of a little girl with a wardrobe full of pretty dresses, this struck a chord with me and it didn't seem too much to ask to make a dress as I could sew and had lots of fabric lying around. I made a few dresses and roped in some of my blogging friends to make dresses too thinking that would be it. Little did I know that 6 months later I would be the UK International Partner for the charity which has now collected well over 10,000 dresses from lovely people all over the UK and Ireland!
MY DRESS!!
The charity is still looking for people to make dresses. Its a very simple pattern to follow and very easy to make. Once you start its a bit addictive and people often end up making more than one dress! Its been such a pleasure collecting the dresses and seeing what people have made. Some use new fabric, some recycled pillowcases (hence the name) and some upcycle old clothes into new dresses. Most are made from the same simple pattern but they are all individual and each one has been made with love. (If you are using pillowcases, please ensure that they are clean and have no marks on them and also that they are not too see through).
MALAWI 2011
GHANA 2012
The charity and I agreed that it would be more cost efficient to get people in the UK to take the dresses to developing countries if possible rather than post them to America. Dresses have now been distributed to many different projects in Malawi,
Kenya, Goa, Ghana, Uganda, South Africa, Zimbabwe, Zambia, Cameroon, Haiti, India, Rwanda, Tanzania, Sierra Leone, India, The Gambia, Peru, Ethiopia, Bulgaria, Argentina, The Congo, Sudan, Burundi and The Phillipines and also to International charities to distribute worldwide. You can read about some of these projects and see photos of dresses being distributed by clicking on the following links:
Biwi, Malawi 2011
Home of Hope Orphanage, Malawi 2011
Kenya 2012
Goa 2012
Farm4Life Project, Ghana 2012
WORSCA Orphanage, Ghana 2012
,
More Ghana 2012
Katanga Slum, Uganda 2012
Kyehimba, Uganda 2012
,
Omushana Project, Uganda 2012
Durban, South Africa 2012
Uganda 2013
Imizamo Yetho, South Africa 2013
Kanchipuram, India 2012

,
Malaika Babies Home, Uganda 2013
The Gambia 2013
Ghana 2013
Uganda 2013
Kenya 2013
Photos from Various Countries 2014
The charity is always looking for people in the UK who are visiting charitable projects abroad who can take and distribute dresses so if you know anyone please ask them to contact us!
GOA, SOUTH AFRICA and KENYA
The highlight so far has been seeing photos of girls wearing the dresses and realising that the dress you made is now being worn by a little girl on the other side of the world. Its made it all worthwhile!
GHANA 2012
If you would like to make a dress or find out more please check out this blog post or the facebook page. If you can't sew but would like to get involved we are happy to accept donations towards the cost of posting the dresses to distributors in the UK. If you run a sewing cafe, sewing group, textiles course or guide group please get in touch to see how you can get involved.
KATANGA SLUM, UGANDA 2012
Tutorials and Patterns
Dresses
You can find a great tutorial for making dresses out of pillowcases and top tips including sizing
here
and printable armhole patterns
here

.
This lovely
blog
has a tutorial and pattern for making dresses from new fabric. An elastic casing version AND a fabric tie casing version. You can download the pattern
here
You can find a tutorial for a really pretty 'tiered' pillowcase dress
here

KATANGA SLUM, UGANDA
Shorts
We also need shorts for the boys!
You can find a tutorial for making shorts out of old t shirts
here
There is a tutorial for '10 minute' fabric shorts on this lovely
blog
There is a fab tutorial for shorts with free pattern on this lovely
blog
Blog Badge
If you have made a dress then please feel free to put a blog badge on your blog or website!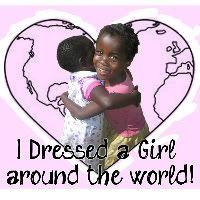 Thank you for getting involved!!
Please send finished dresses the new co-ordinators listed above.If you are sending large quantities of dresses it may be cheaper to use a courier rather than Royal Mail.
Please put your name and contact details (email address, facebook page or Twitter name) in with the dresses.
You will be contacted to let you know that the dresses have arrived safely. If you do not have an email address and would prefer to be contacted by post, please include a stamped addressed envelope. Please allow a couple of weeks to be contacted due to the number of dresses arriving daily.
FAQ
Will I see photos of my dresses being worn?
We always ask for photos of the dresses being worn or distributed and have lots of photos on my blog. However, it is not always possible to get photos for a variety of reasons e.g. sometimes dresses are left with local charities to distribute at a later date and sometimes it is just not appropriate to take photos. Any photos that are received are posted on this blog and the facebook page.
How much will it cost to post my dresses to you?
This depends on how many you make and the weight of the parcel. It can be really expensive to post dresses using Royal Mail. If you are sending lots we would suggest looking at the Parcel Monkey website as this often works out much cheaper in my experience.
http://www.parcelmonkey.co.uk
Is the charity a religious organisation?
The charity in America is a Christian charity. I personally have no religious affiliation and dresses distributed from the UK are distributed by people of all religions to children of all religions.
I have seen labels on the dresses on the American website. Should we be using them?
The dresses in America do have labels sewn on to them. We are not currently doing this in the UK due to the cost of importing and distributing the labels to people making dresses. You can order them from America if you would like to use them but you do not have to. The charity in America has a team of volunteers who sew the labels on when they arrive at their warehouse. In the UK it's just me organising things at my house!
Do you have any promotional material?
There are no promotional materials available at the moment I'm afraid. This is something that is being worked on. Please feel free to design your own posters and flyers for your event. Please link to this page rather than the American website for any events in the UK as it has the most up to date information about dresses made in the UK and all of the photos of UK dresses being distributed. You are welcome to use any of the images on this blog to help promote your sewing event but please do not use images from the American site without asking permission first.
UGANDA 2012
Year 10 pupils making dresses!
facebook:
http://www.facebook.com/DressagirlaroundtheWorldUK
UGANDA 2012
UGANDA 2013
INDIA 2012